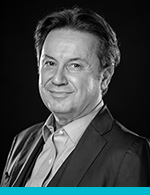 Murat Kaan Güneri
Managing Partner & Founder Executive Search
Murat Kaan Güneri started his early career in İktisat Bank and continued at Digital Equipment Corporation (DEC) where he carried the responsibility for the Human Resources and Organization Country Manager position as well as that for the Quality Management function.

He founded AMROP International Executive Search Turkey in 1996.

He then joined Heidrick & Struggles and managed the Technology Practice between 2000 and 2002.

Based on ten years of experience in different levels of the Human Resources area, Güneri founded MKG&Partners and built a substantial network in the ICT field both in Turkey and abroad. He will celebrate his 25th. year in in executive search in 2021.

Murat Kaan Güneri earned his BSc in Psychology, Boğaziçi University, İstanbul. He is fluent in English.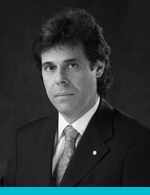 Dr. Leon Bovete
Partner
Leadership Services
Dr. Leon BOVETE started his professional career in Pamukbank. He has been the Department Manager of various Human Resources functions. Afterwards, he joined Alarko Tourism Group; being a member of the Managing Team, he was the Head of Human Resources of all the Group companies. Then, he joined Schindler Turkey as a member of the Managing Team, in charge of Human Resources and Quality Management. Later, always as a member of the Managing Team, he had been in charge of Sales, After Sales and Field Operations of Istanbul Region as well as of Technical Support functions for the entire organization.

Dr. BOVETE joined MKG&Partners in 2005. He has established the Leadership Services business line and he has been the Partner in charge of it since then. At the same time, being part of the Executive Search business, he is leading projects on Automotive and Manufacturing, Consumer, Retail, Luxury Goods and Media and Entertainment practices.

Dr. BOVETE is graduated from Istanbul University General Psychology Department. He got his master's degree in clinical psychology at Boğaziçi University and then, he completed his Ph.D. studies in Behavioral Sciences, at Istanbul University. He had been an Adjacent Professor at Bilgi University and Alliant International University joint Organizational Psychology Master and Consulting Programs. Currently, he is member of the Advisory Board of the Psychology Department, at Bilgi University.

He is fluent in Turkish, English, French and Italian.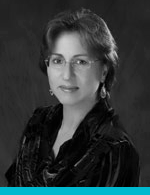 Prof. Hanna Nita Scherler
Partner
Leadership Services
Upon completing her graduate studies as a clinical psychologist in 1994, Prof. Dr. Hanna Nita Scherler established her private practice, developed a Gestalt community in Istanbul and served as adjunct faculty member at Boğaziçi University and Bilgi Unversity for 4 and 18 years respectively. Since 1994, she has been giving conferences in her field in various national and international institutions. In addition to her role as a partner of MKG&Partners, Prof. Dr. Scherler is a faculty member at Hasan Kalyoncu University in Gaziantep and also an associate staff member of the Georgian National Gestalt Institute Gestalt Trining Program in Tbilisi.

Prof. Dr. Scherler started offering services, as a process intervener, to international companies in 1999. Her activities in this domain cover performance, transitional and transformational coaching and facilitation.

Prof. Dr. Scherler has a BS in Business Administration - Marketing, an MA in Social Psychology and an MA in Clinical Psychology from Boğaziçi University. She earned a Ph.D in Clinical Psychology at Fielding Graduate University in Santa Barbara, USA.

Prof. Dr. Scherler is a Gestalt Therapist acredited by the European Gestalt Therapy Association (EAGT) and also holds European Certificates in Psychology (EuroPsy) and in Psychotherapy (EuroPsy Specialist). In addition, she is a member of the Specialization in Psychotherapy National Awarding Committee at Turkish Psychological Association.